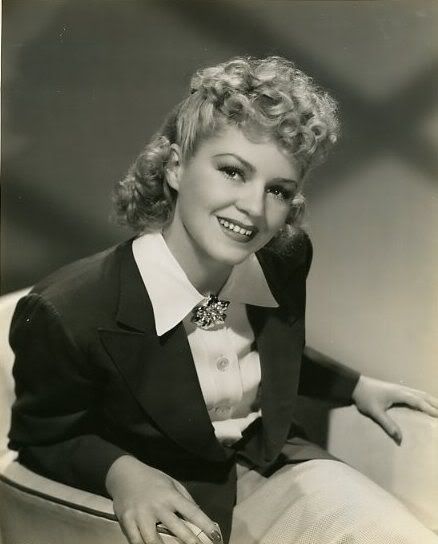 I first learned of her as Shirley Temple's mother, Kay Ellison in Shirley's first motion picture with Fox Studios, "Baby Take a Bow" (1934).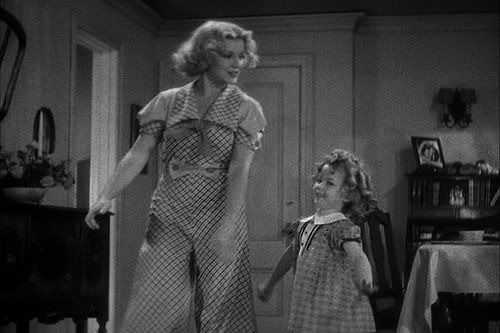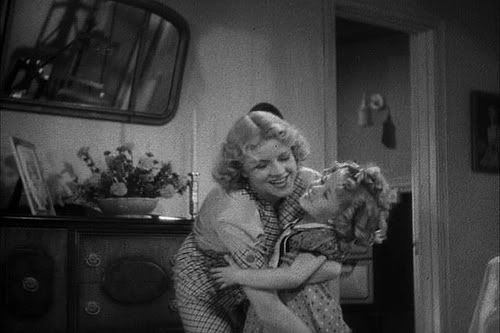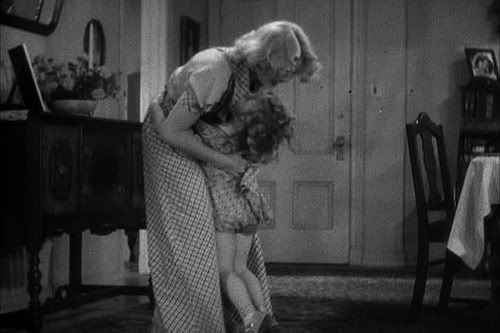 (via Flickr)
Claire got her start in B pictures playing innocent roles which she soon grew tired of and wanted more dramatic roles. A similar story for Shirley's other mother figures such as
Alice Faye
,
Gloria Stewart
and
Phyllis Brooks.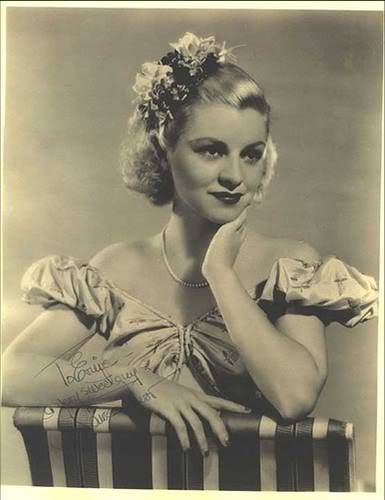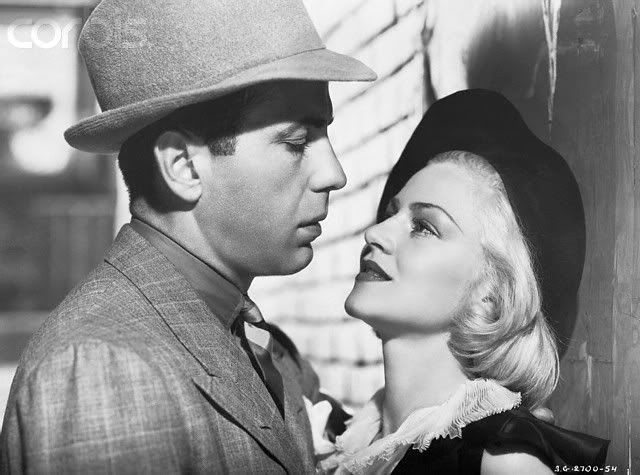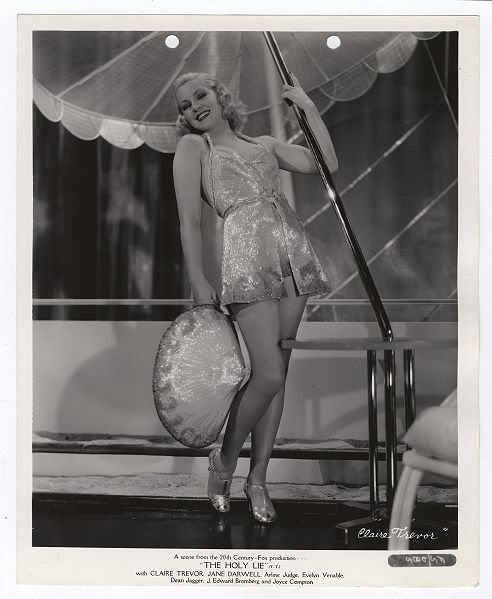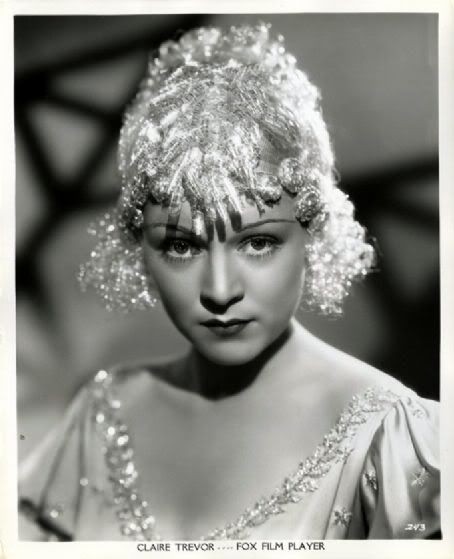 After her breakthrough role in the film, Stagecoach, (1939) it didn't take long for Hollywood to recognize Trevor's outstanding talents. In 1937 Claire was nominated for an Oscar for the film, Dead End. In 1948 she won an Oscar for Best Actress in the film, Key Largo. She was also nominated in 1954 for her role in the film, The High and Mighty.
During Claire's career which spun an impressive 50 years, she became known for playing the bad girl in gangster and film noirs.
She was thus given the title, "Queen of Film Noir."
She appeared in an astounding 60 films.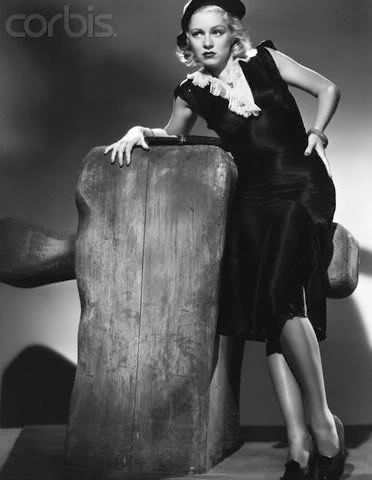 For fun, click here to see a clip of
Danny Kaye
introducing Claire as she announces the Oscar for Best Supporting Actor in 1952.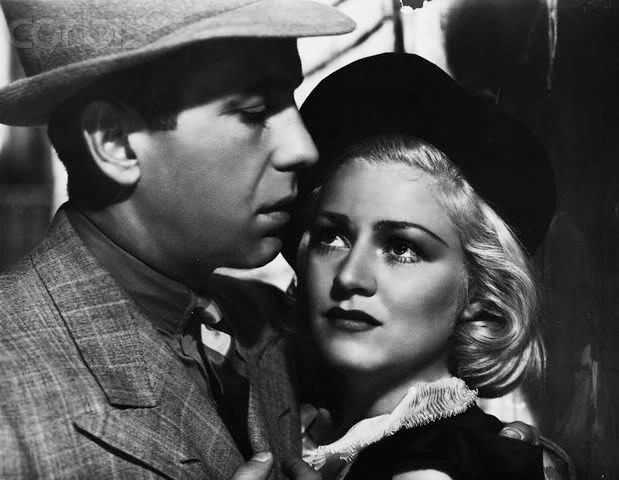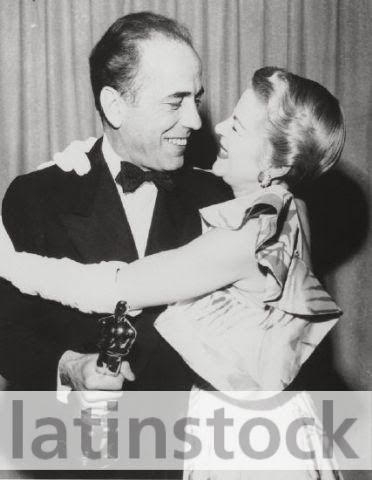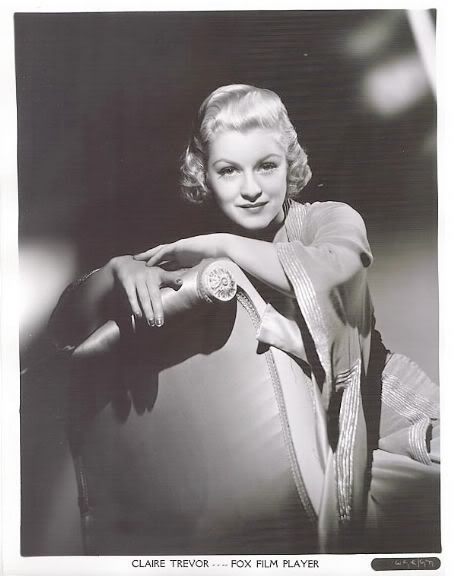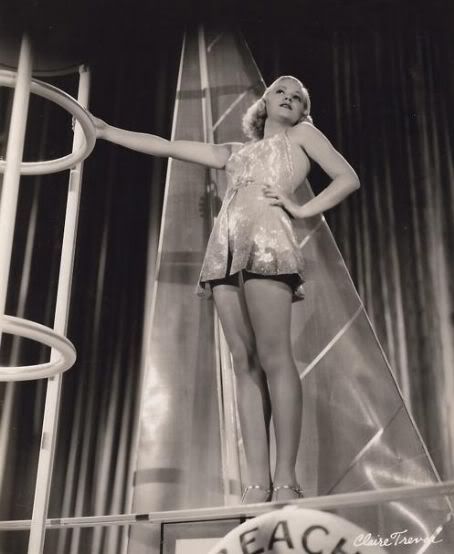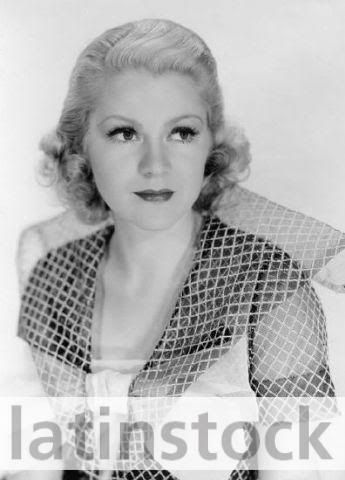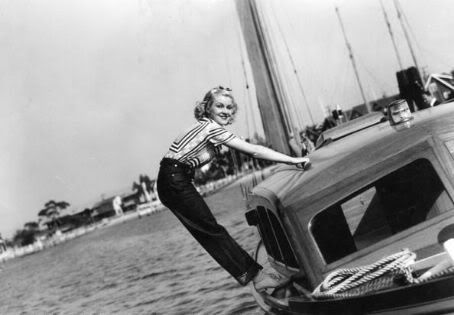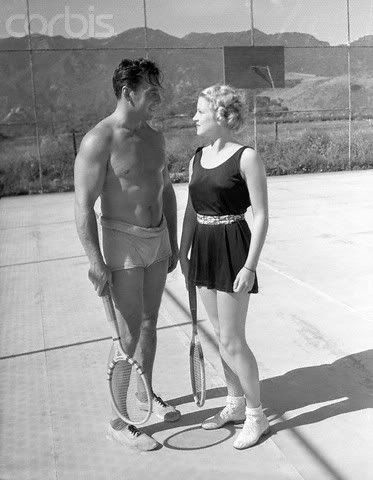 Full filmography
1933
Jimmy and Sally
as Sally Johnson
The Mad Game
as Jane Lee
The Last Trail
as Patricia Carter
Life in the Raw
as Judy Halloway
1934
Elinor Norton
as Elinor Norton
Baby Take a Bow
as Kay Ellison
Wild Gold
as Jerry Jordan
Hold That Girl
as Tonie Bellamy
1935
Spring Tonic
as Betty Ingals
Black Sheep
as Jeanette Foster
My Marriage
as Carol Barton
Navy Wife
as Vicky Blake
Dante's Inferno
as Betty McWade
1936
Career Woman
as Carroll Aiken
Star for a Night
as Nina Lind
To Mary - with Love
as Kitty Brant
Human Cargo
as Bonnie Brewster
Song and Dance Man
as Julia Carroll
15 Maiden Lane
as Jane Martin
1937
Big Town Girl
as Fay Loring
Second Honeymoon
as Marcia
One Mile from Heaven
as Lucy 'Tex' Warren
King of Gamblers
as Dixie Moore
Time Out for Romance
as Barbara Blanchard
Dead End
as Francey
Nominated — Academy Award for Best Supporting Actress
1938
Five of a Kind
as Christine Nelson
Valley of the Giants
as Lee Roberts
Walking Down Broadway
as Joan Bradley
The Amazing Dr. Clitterhouse
as Jo Keller
1939
Stagecoach
as Dallas
I Stole a Million
as Laura Benson
Allegheny Uprising
as Janie MacDougall
1940
Dark Command
as Miss Mary Cloud
1941
Texas
as Mike King
Honky Tonk
as 'Gold Dust' Nelson
1942
The Adventures of Martin Eden
as Connie Dawson
Crossroads
as Michelle Allaine
Street of Chance
as Ruth Dillon
1943
The Woman of the Town
as Dora Hand
Good Luck, Mr. Yates
as Ruth Jones
The Desperadoes
as Countess Maletta
1944
Murder, My Sweet
as Mrs. Helen Grayle
1945
Johnny Angel
as Lilah 'Lily' Gustafson
1946
The Bachelor's Daughters
as Cynthia
Crack-Up
as Terry Cordell
1947
Born to Kill
as Helen Trent
1948
Raw Deal
as Pat Cameron
The Velvet Touch
as Marian Webster
The Babe Ruth Story
as Claire (Hodgson) Ruth
Key Largo
as Gaye Dawn
Academy Award for Best Supporting Actress
1949
The Lucky Stiff
as Marguerite Seaton
1950
Borderline
as Madeleine Haley, aka Gladys LaRue
1951
Best of the Badmen
as Lily
Hard, Fast and Beautiful
as Millie Farley
1952
Stop, You're Killing Me
as Nora Marko
My Man and I
as Mrs. Ansel Ames
Hoodlum Empire
as Connie Williams
1953
The Stranger Wore a Gun
as Josie Sullivan
1954
The High and the Mighty
as May Holst
Nominated — Academy Award for Best Supporting Actress
1955
Man Without a Star
as Idonee
Lucy Gallant
as Lady MacBeth
1956
The Mountain
as Marie
1958
Marjorie Morningstar
as Rose Morgenstern
1962
Two Weeks in Another Town
as Clara Kruger
1963
The Stripper
as Helen Baird
1965
How to Murder Your Wife
as Edna
1967
The Cape Town Affair
as Sam Williams
1982
Kiss Me Goodbye
as Charlotte Banning

(answers.com)
**There is even a school named after her to honor her legacy:
*Click* "The Claire Trevor School of The Arts**