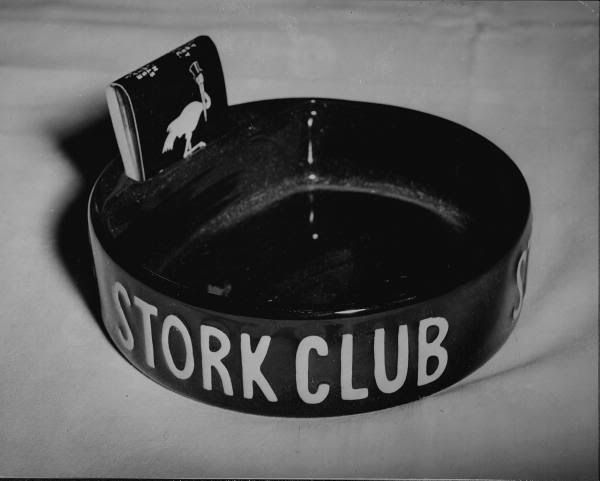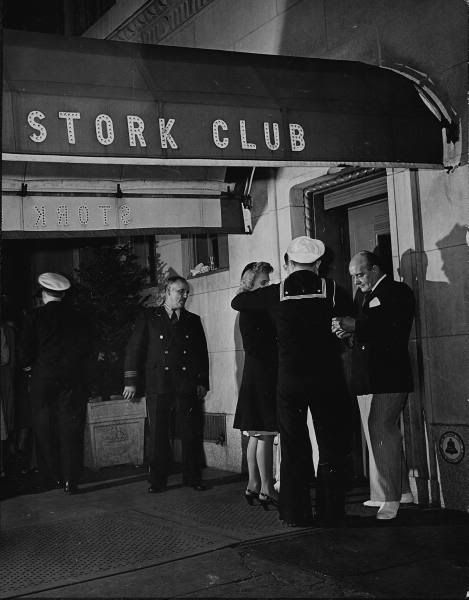 I couldn't let too much time go by without including a piece on The Stork Club! I have been researching the Stork for several years now and found an old write-up I did back when I was living in New York City. I have collected several Stork Club memorabilia such as match book cover, swizzle sticks and such.
I am aware of the film,
The Stork Club
, which to me was a disappointment. I'm also aware of the
TV show
, which I am lucky enough to have seen while visiting the Museum of Television and Radio. Actually, a funny thing happened...Right after I visited East 53rd Street, I went to the Museum and who's photo did I see immediately when I walked through the door? None other than William S. Paley!
New York City's Fallen Hotspot:
The Stork Club
Written By: Di
"We hate to hear a fairy-tale before we go to bed! -We'd rather have you telling us what Walter Winchell said! We know our table manners, when to use a knife and fork- and we know that the Stork is a nightclub in New York!" –Sung by Shirley Temple and a group of children in the 1940 film,
Young People.
What exactly was, "The Stork Club" mentioned in the song written by
Mack Gorden
and
Harry Warren?
What was known as New York's most enchanting nightclub from the roaring twenties to the swingin' sixties, is today the home of
Paley Park
, a memorial for CBS founder,
William S. Paley's
father, Sammuel Paley.
Ralph Blumenthal, Pulitzer Prize-winning New York Times reporter, published the book, America's Most Famous Nightspot and The Last of Café Society on May 2, 2000. Blumenthal tells the story of the rise of the club and its owner, Oklahoma native, Sherman Billingsley.
In 1929, Billingsley, an ex-bootlegger, rounded up three partners and founded The Stork Club. Starting out as a speakeasy during Prohibition, Billingsley quickly learned the tricks-of-the-trade as a nightclub owner. He became media savvy and managed to befriend people who would assist in his success.
One of the people responsible for The Stork Club's rise to extreme popularity was Walter Winchell, a New York born newspaper and radio commentator. Billingsley and Winchell met through a mutual friend and before long; Winchell began promoting The Stork Club on his radio show, dubbing it, "New York's Most New York-iest Spot." From that moment on, the club became just that. The buzz surrounding the club added to the glitz associated with New York City during that era.
Winchell's loyalty to Billingsley earned him table #50 in the club's "Cub Room," as well as his very own "Winchellburger" on the club's menu. Other Stork Club specialties included their famous "chicken burger," served with a side of sweet potato fries and buttered green beans. For dessert was, "The Snowball," which was a ball of ice cream covered in shredded coconut and topped with hot chocolate sauce.
Though the origin of the name, The Stork Club, remained a mystery even to Billingsley, The Stork Club attracted regular guests such as Marilyn Monroe, Rita Hayworth, John and Jacqueline Kennedy and Frank Sinatra. Billingsley had a savvy air about him which kept these and more A-list names coming back again and again. –Or was it the free perfume, favorite tables and a bevy of beautiful escorts?
In the midst of my research, I decided I had to pay a visit to 3 East 53rd Street and see for myself what became of The Stork Club.
"This park is set aside in memory of Sammuel Paley, 1875-1963, for the enjoyment of the public," reads a tiny sign at the entrance of the park. The "park" doesn't feel like one at all, no benches, no grass, no people!
"We've had a few reporters come from time to time…they all want the same information, and I can't answer half the questions they ask me," stated a Groundsman of Paley Park.
Prior to the 1950's, any hope that the average person had of catching a glimpse of the excitement inside The Stork Club was from what could be seen along the street. Though people were shooed away for standing and gawking for a long period of time, passerbys let their imagination run if they were lucky enough to see the solid gold chain, which was just inside the front door.
In 1950, Americans who were lucky enough to have a television set, were able to finally see what went on beyond the gold chain at The Stork Club. CBS offered Billingsley a contract to host a television show spotlighting his nightclub. The show, titled "The Stork Club," was one of television's earliest live broadcasts. Live television recordings of the 1940's remain largely a mystery, mostly because of the one-time-only viewing nature of the broadcast.
"The Stork Club" television show was filmed in a studio created in the upstairs of the club's building and was designed to look just like the "Cub Room" of The Stork Club. In an episode, (which ran for approximately thirty minutes) Billingsley gave viewers a tabloid-esque look into the lives of the famous people who happened to be dining in that night. Moving from table to table, Billingsley managed to find out the latest dirt, while smoking what seemed to be an infinite amount of cigarettes. The show ended routinely with a performance by the musical guest of the night.
Behind the glitter and glamour of The Stork Club, however, things were not quite as magical as they appeared.
In Blumenthal's book, he addresses various accounts of racism on Billingsley's part. He was known for not allowing Jewish or black people into his club unless they were of A-list celebrity status. His discrimination became public after an incident where he refused to serve Parisian dancer, Josephine Baker's table.
According to
several sources
, "In 1951, Josephine Baker made charges of racism against Sherman Billingsley's Stork Club in New York, where she had been refused service. Actress Grace Kelly, who was at the club at the time, rushed over to Baker, took her by the arm and stormed out with her entire party, vowing to never return (and she never did)."
Due to all the controversy, things weren't looking good for The Stork. Here are photos (sorry they are small) of protesters: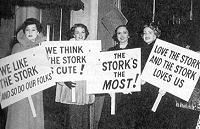 For Billingsley's employees, things began to turn ugly. According to Blumenthal, Billingsley began listening in at the club's switchboard, eavesdropping on private phone calls. He also had tables bugged, out of paranoia that his every move was being watched.
"I WANT ALL THE EMPLOYEES, WHO ARE STUBBORN, TO KNOW THAT I OWN THE STORK CLUB AND HOW I WANT THINGS DONE, MUST BE DONE THAT WAY. I WILL NOT STAND ANYONE WHO BUCKS ME. WHEN ANYONE THINKS THEY CAN DO THINGS THEIR WAY AND NOT MINE, THEY CAN DO THEIR THINKING ELSEWHERE. EVEN IF I'M WRONG- I HAVE A RIGHT TO BE IF IT'S MY WISH. I WANT MY ORDERS CARRIED OUT." –As written by Billingsley to his employees, posted on the door of a pantry in the club.
In 1965, Billingsley had new plans to re-locate his club, when he suddenly fell ill. He sold the building to CBS founder, William S. Paley and it was then that The Stork club, which had operated for over three decades, came to a close.
Sherman Billingsley met his fate when he collapsed at age 70 on October 4th, 1966.
"New York [has] changed, and the Stork Club has become silly and old," stated American columnist, Jimmy Breslin during the time of the club's closing.
Though much of what happened inside The Stork Club remains a mystery, perhaps one day, someone will unveil lost stories of the nightclub.
The stork club may be gone, but it continues to hold a special place in the history of New York City. It will take its place among other fallen New York City hotspots, such as The El Morocco, The Latin Quarter and Studio 54. Today, The Cub Room, a small bar in Manhattan, is fondly named after the "Cub Room" of The Stork Club.
"If it were just a nightclub, I wouldn't have written about it. It was a way into the story of what New York was like in this most fascinating time. It was a very different time when the city really pulsated." -Ralph Blumenthal, January 14, 2002.
***************************************************************************************************************************
Some of you may have seen this already, but
acontinuouslean.com
posted a fun but about Sherman Billingsley's infamous hand signals at the Stork Club. I actually hadn't seen it until recently! Here it is!
LIFE caption: Closeup of Stork Club owner Sherman Billingsley pointing down, one of his signals to nearby assistant which means "Bring a round of drinks," while sitting w. patrons over his usual Coca Cola, in the Cub Room.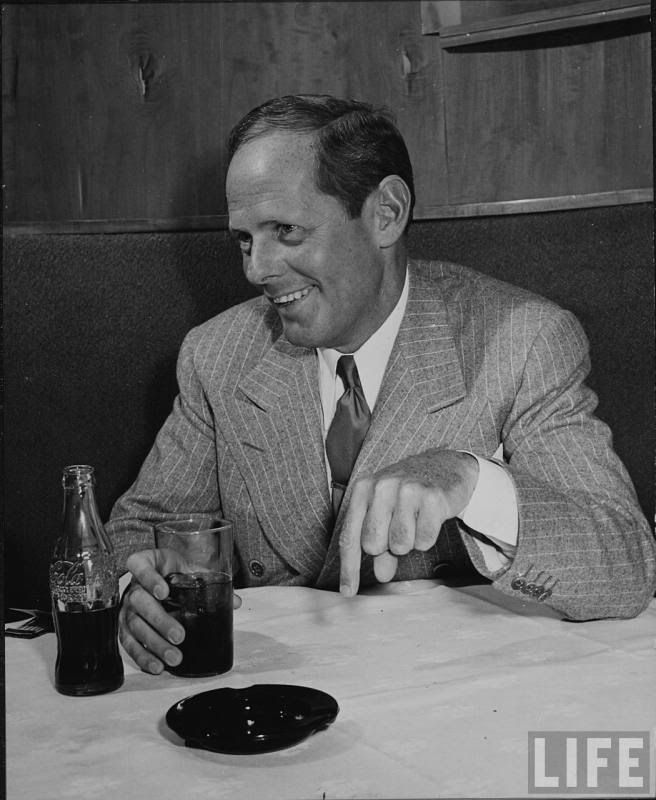 LIFE caption: Closeup of Stork Club owner Sherman Billingsley w. palm up on table, one of his signals to nearby assistant which means "Bring a bottle of champagne," while sitting w. patrons over his usual Coca Cola, in the Cub Room.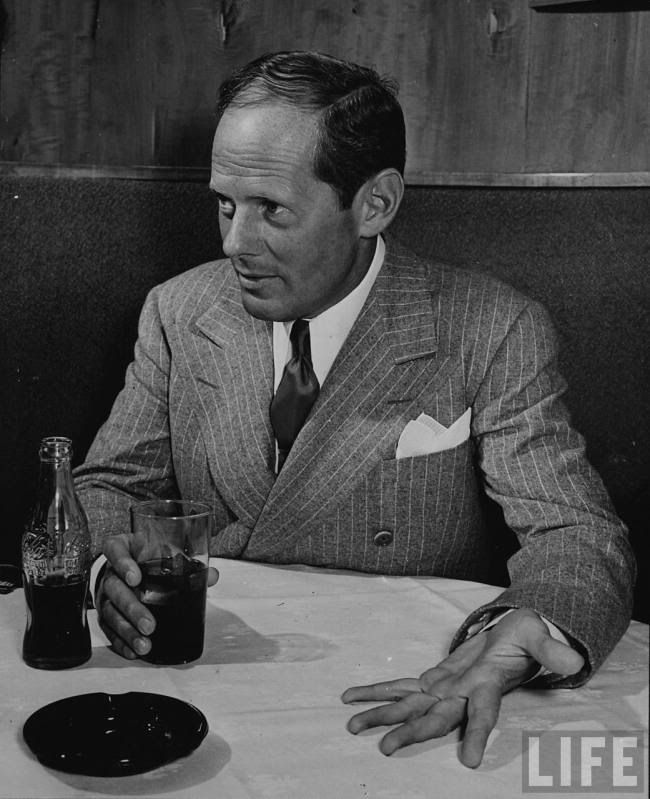 LIFE caption: Closeup of Stork Club owner Sherman Billingsley tugging at his pocket handkerchief, one of his signals to nearby assistant which means "Get them a bottle of perfume" (ranging fr. $7.50 to Chanel at $150) while sitting w. patrons over his usual Coca Cola, in the Cub Room.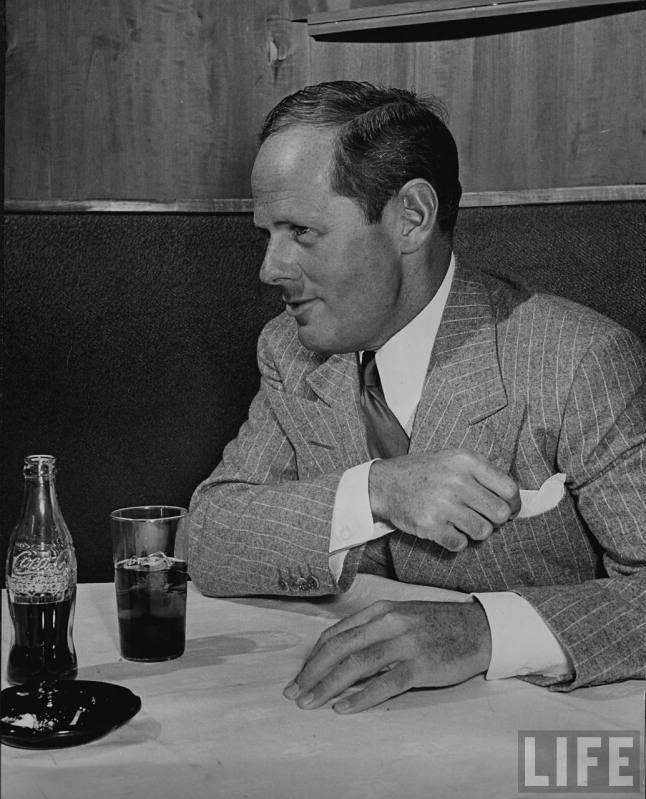 LIFE caption: Closeup of Stork Club owner Sherman Billingsley w. hand to nose, one of his signals to nearby assistand which means "Not important people" or "Their check is no good." while sitting w. patrons over his usual Coca Cola, in the Cub Room.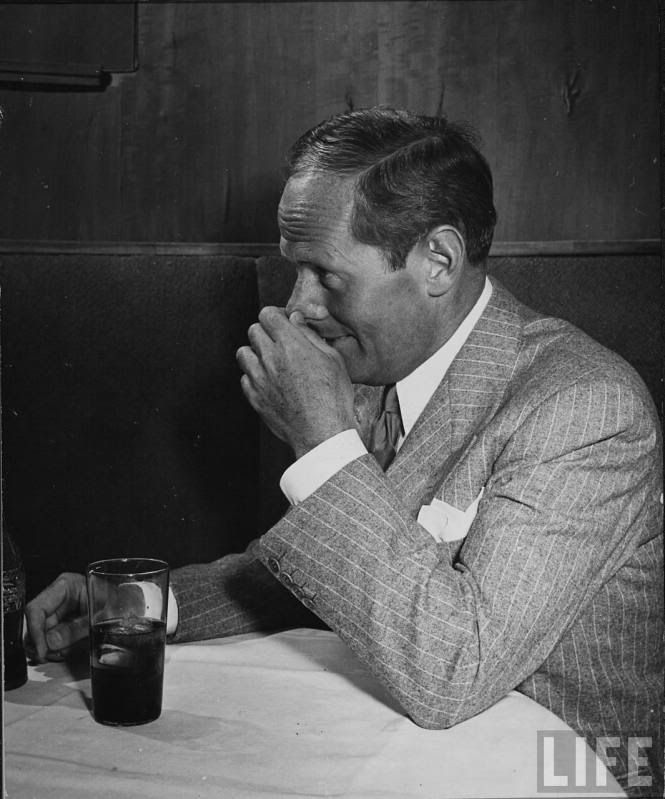 LIFE caption: Stork Club owner Sherman Billingsley (2R) flashing one of his eleborate signals (5-fingers spread out on L hand) to his assist. Gregory Pavilides meaning that music in the main dining room is too loud, as he chats w. patrons over a Coca Cola, in the Cub Room.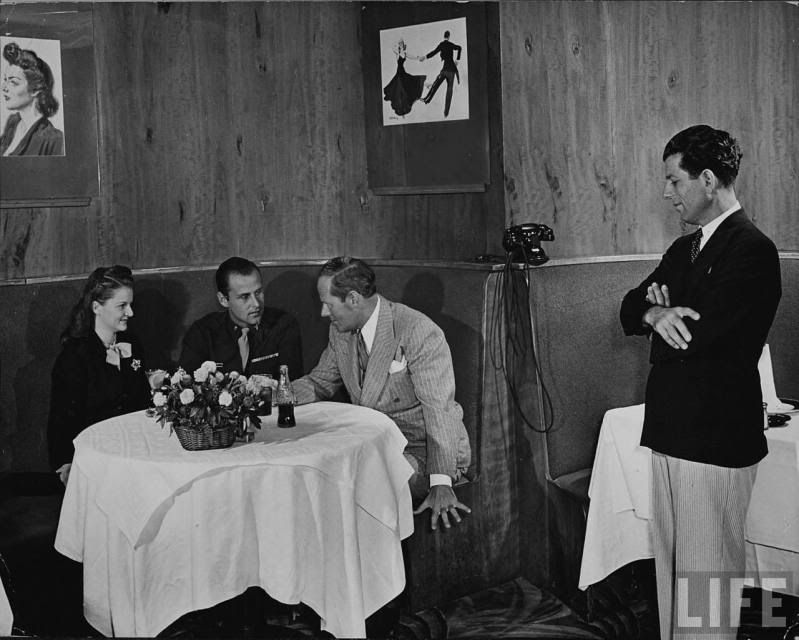 LIFE caption: Closeup of Stork Club owner Sherman Billingsley w. hands interlocked & thumb up, one of his elaborate signals to nearby assistants which means "Get them out & don't let them in again" while sitting w. some annoying patrons over his usual Coca Cola.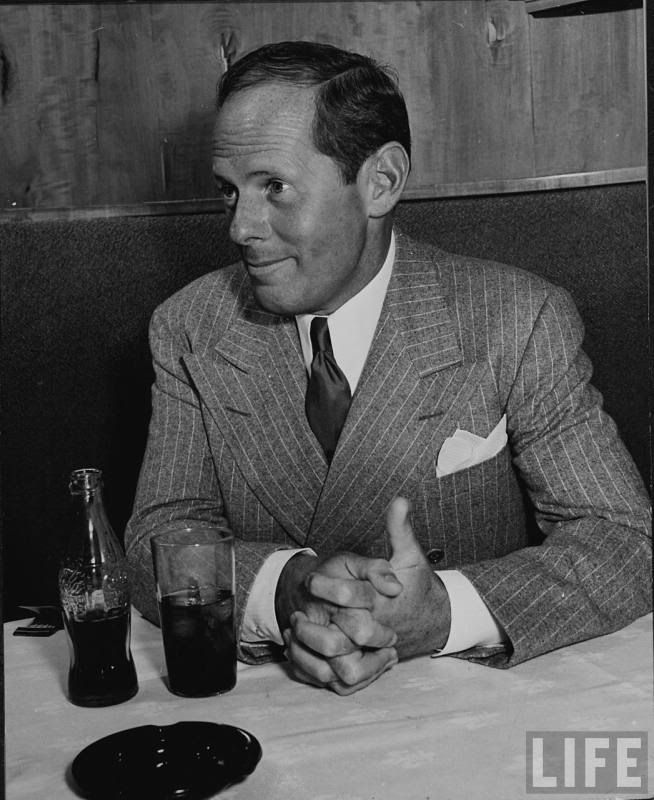 I love the Stork Club, you know that, but this guy had major problems! Look at the second to last picture, the look on the guy's face who is standing! At least he's drinking Coca Cola. I don't know if I would have ever WANTED to work at the Stork, even being a hat check girl...Okay, maybe I would?
While out in Seattle, I found a Stork Club DRINK: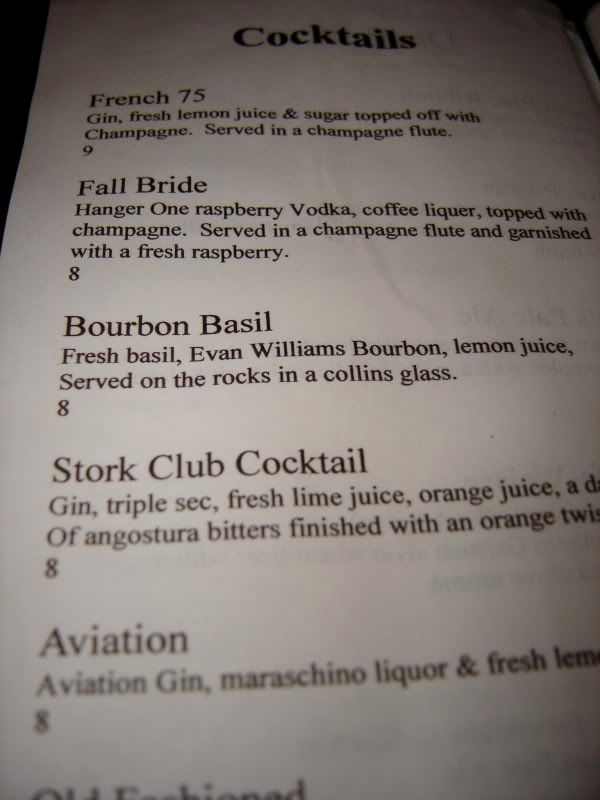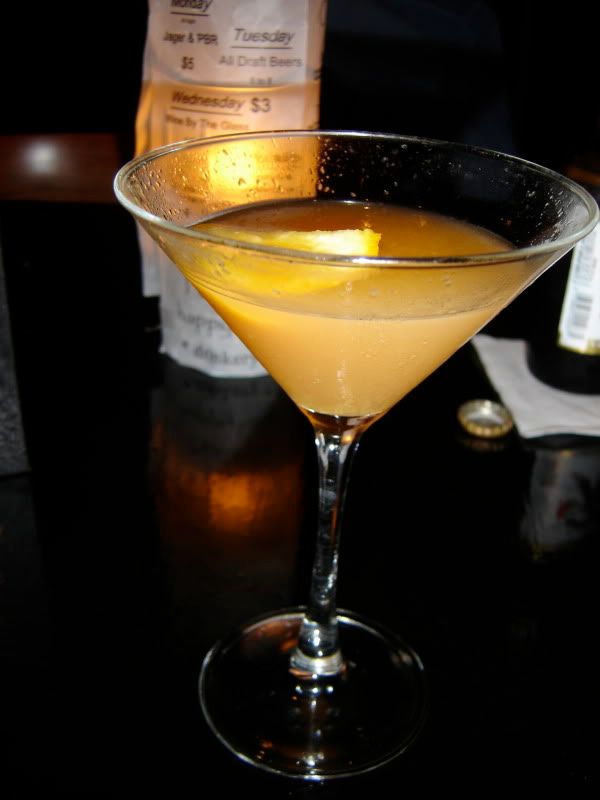 I have several people at the Stork Club...
In case you missed it, here she is again, Carole Landis at the Stork Club!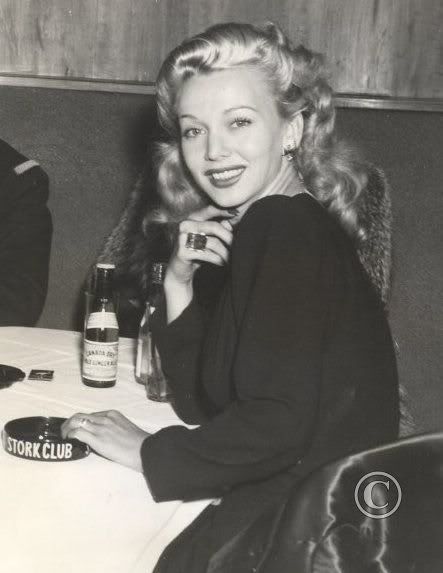 Ann Sheridan and Steve Hannagan: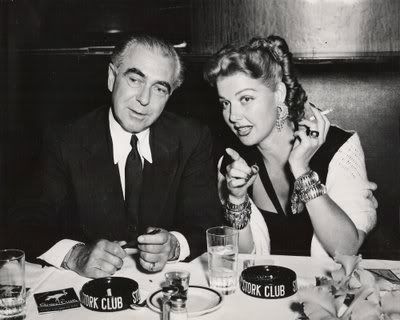 Orson Wells and Rita Hayworth: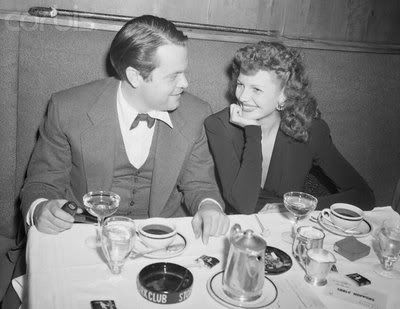 Victor Mature and Gene Tierney: (R)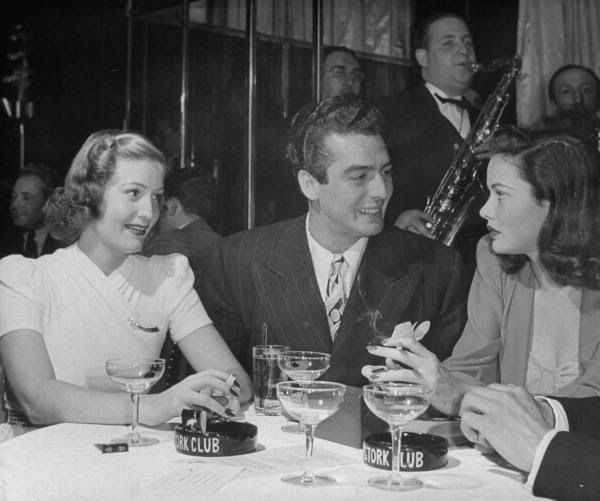 SHIRLEY TEMPLE!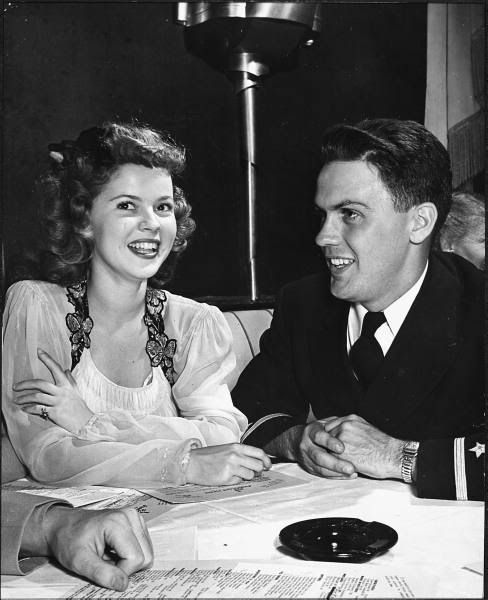 Until next time.............................
{photos via mostly LIFE & Flickr}