I've been working on a few on-going projects. First, I have been working on my own biography of Vera-Ellen for almost a year now and will hopefully be able to share some information that has taken me months and months of research.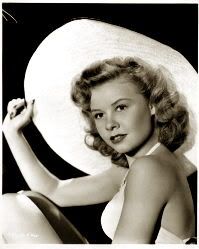 Also, I am also working on a Shirley Temple project and plan to share photos of my entire collection that I have been working on since I was about 5 or 6 years old.
These projects (and more) are going to take a few more weeks but know that I'm working on it! I am also working on making this blog look more attractive and more "hands on." There just aren't enough hours in the day it seems! I have so many ideas and start about 30 projects at a time because I get so excited.
Know that I'm extremely passionate about what I do and if you stick around and follow my blog I promise you won't be disappointed!
What DO I do? A lot of things! I am working on the "About Di" page and will announce when that's finished so you can check it out.
I want to share some photos of Anna Karina. She is such an inspiration to me stylistically and creatively. I was told we resemble each other and I had never heard of her. After watching some of her films and reading interviews with her, I, of course became fascinated and just in awe of her! It was weird, after I was told I resemble her, I saw Anna Karina everywhere, (I mean her movies, etc) in random places like this one authentic french restaurant I went to in Seattle. Quite random.
Have a fabulous day!