When you watch Shirley Temple in The Little Princess? Okay, I'm 24 and have to re-phrase that: If you're a girl, how can there be anything bad in the world watching The Little Princess?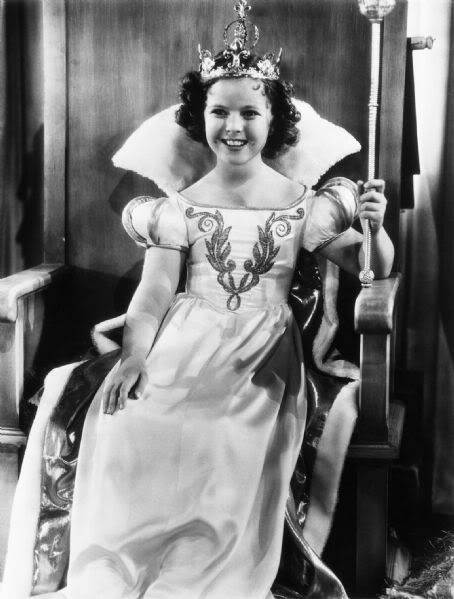 I love everything about the movie and it's probably the one I watch most frequently out of them all, and I own almost all of them! Movies that I haven't seen but am dying to see and hope to see before Shirley and I both are gone?
1. A Kiss for Corliss (1949)
2. The Story of Seabiscuit (1949)
3. Mr. Belvedere Goes to College (1949)
4. That Hagen Girl (1947)
5. Honeymoon (1947)
6. American Creed (1946) ***Why do I know next to nothing about this film????????
7. Kiss and Tell (1945)
8. I'll Be Seeing You (1944) ***Ok, I MAY have seen this on TV once..........
9. Miss Annie Rooney (1942) **Seen trailers and photos!
10. Kathleen (1941) **Seen trailers, photos and even a radio promo! Come on!
Ok, now that I've made that WAY too long list of Shirley movies I HAVEN'T seen, to redeem myself, I'll make a list of movies I've not only seen religiously, but I own (some duplicates!)
1. Young People (1940)
2. The Blue Bird (1940)
3. Susannah of the Mounties (1939)
4. The Little Princess (1939)
5. Just Around the Corner (1938) **Ok, I cheated a bit on this one...I've seen it several times, but don't own it :(...yet.
6. Little Miss Broadway (1938) .... Betsy Brown Shea
7. Rebecca of Sunnybrook Farm (1938)
8. Heidi (1937)
9. Wee Willie Winkie (1937)
10. Stowaway (1936)
11. Dimples (1936)
12. Poor Little Rich Girl (1936)
13. Captain January (1936)
14. The Littlest Rebel (1935)
15. Curly Top (1935)
16. Our Little Girl (1935)
17. The Little Colonel (1935)
18. Bright Eyes (1934)
19. Now and Forever (1934)
20. Baby Take a Bow (1934)
21. Now I'll Tell (1934)
22. Little Miss Marker (1934)
23. Stand Up and Cheer! (1934)
24. Pardon My Pups (1934)
25. What's to Do? (1933)
26. Merrily Yours (1933)
27. Kid 'in' Africa (1933)
28. Dora's Dunking Doughnuts (1933)
29. Polly Tix in Washington (1933)
30. Kid in Hollywood (1933)
31. Glad Rags to Riches (1933)
32. The Pie-Covered Wagon (1932)
33. War Babies (1932)
34. Runt Page (1932) (as The Baby Stars) .... Lulu Parsnips