If you're like me, you have a love of pyrex cookware/bakeware. I have a growing pyrex collection, myself!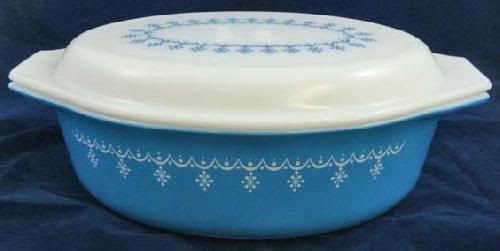 As I have stated previously, I am in LOVE with the show Bewitched and Samantha's kitchen on the show. After falling in love with the PYREX used on Bewitched, including the juice quintet, casserole dish and mixing bowls, I decided I, too had to have them.
Go to this amazing website to see what products Samantha used in her
KITCHEN!
So a while ago I posted about retro kitchens and I included photos of vintage PYREX glassware. I recently ventured out to some antique shops with my mom and sister and came back with my first very own vintage PYREX bowls!
The bowls are the Butterfly Gold patterned mustardy-yellow from the late 1960s. Also seen in my photo below are some vintage Fire King custard cups.
What I really want to find are bowls and dishes with the starburst and snowflake designs.
Can you believe there is a fansite devoted to the love of
PYREX???
You can also see a FLICKR album devoted to PYREX
here.
Happy Collecting! :)